Win Business
With

Remarkable


Thought Leadership
Content And Marketing
Rveal Media helps businesses and organizations of various industries produce top-shelf Thought Leadership shows and video series that reveal their expertise, cultivate brand loyalty, generate new leads, and increase sales.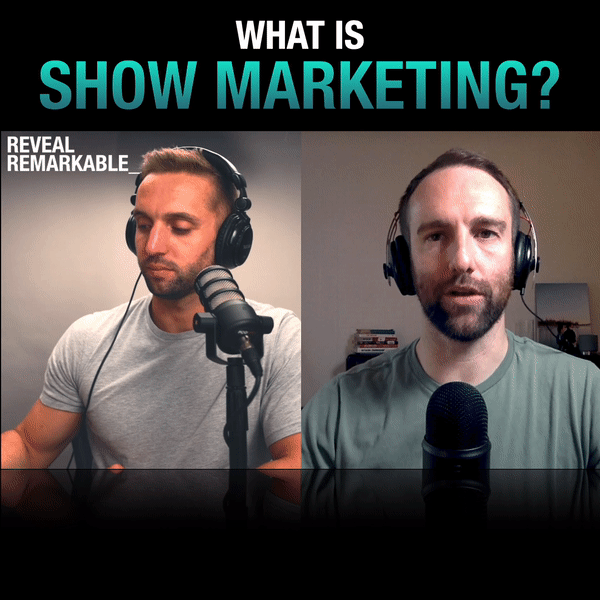 That's the percentage of B2B decision-makers that say they'd be willing to pay a premium to work with an organization that produces quality Thought Leadership versus those that do not.
​
However, only 15% of decision-makers say that most of the Thought Leadership they consume is "very good" or "excellent".
​
That's where we can help.
"Our show, Sidebar, has helped us land

over $1 million in sales


in just the first year.

Rveal is killing it."

Josh Peterson


Shareholder, XDD
Executive Producer & Host, Sidebar
How To Make Money With Thought Leadership Content
Creating a content strategy for Thought Leadership requires a blend of brilliance and beauty.
​
Here's how we make sure our Thought Leadership marketing strategies engage the mind, move the heart, and drive new business.
Research
& Strategy
Competitor Analysis

SEO Keyword Strategy

Content Marketing Strategy

Video Marketing Strategy

Podcasting Strategy

Social Media Strategy

Paid Media Strategy

Email Marketing Strategy

Influencer Marketing Strategy
Video Creation

Podcast Production

Graphic Design

Copywriting
Omni-channel Content Management

Hubspot Integration
Data Studios

Monthly Reports

Quarterly Insights
Don't Overthink Thought Leadership




(we make it easy for you)
Start A Show
Tell our creative team a little about what you want your Thought Leadership marketing to accomplish for your business, and within 7-10 days we'll develop the strategy for messaging, branding, and positioning complete for you to review on your very own show portal.
And if you need it, we'll also send you a Show Launch Kit with the equipment you'll need to record from your very own office.
Record Your Episodes
Use your show portal to schedule recording times with your dedicated Rveal Virtual Producer and access your virtual recording studio. You can even invite your guests into the recordings, too.
Review Your Content
​
Our promise is to get flawless content to you as quickly as possible. But in case you still have any changes you'd like to make to your content, you can review the content in your Show Portal and leave detailed notes about how you'd like it changed before it's released to the world.
Reveal Y

our Value
The best part - we can help you reveal this content through practically every avenue of your digital marketing ecosystem, including your website, social media platforms, email marketing software, ad management programs, and more.
Custom show branding

Show treatment PDF

Show portal

Show setup
Full episode - video per episode

Full episode - audio per episode

YouTube thumbnail per episode

Virtual producer per episode

Production Coaching (60min call/mo)
EVERYTHING IN
PREVIOUS TIER PLUS
...
+ BASIC COPYWRITING
+ MICRO CONTENT
+ CONTENT MANAGEMENT
4x micro videos (<60sec) per episode

5x social media graphics per episode

1x blog post (w/ show notes) per episode

1x email newsletter per episode

Copywriting for social captions per episode

Content management (podcast, YouTube, socials, emails, blog)
EVERYTHING IN
PREVIOUS TIERS PLUS
...
+ ENTERPRISE-LEVEL MARKETING
+ STRATEGY CONSULTATION
1x blog per episode (up to 1,500 words)

1x lead magnet PDF per month (up to 10 page)

Social media ad campaigns (1x/qtr)

PPC ad management

Podcast tour concierge (we schedule your guests and book you on other relevant podcasts)

Social media and YouTube hashtag strategy

Quarterly insights review

Thought Leadership consulting (2x hr/mo)
"Rveal is establishing us as the trusted Thought Leaders in our industry,




and we're getting high ticket leads because of it."



Brett Elliott


Founder & CEO, Skillwork
Executive Producer & Host, The Skillwork Forum
Why Most Thought Leadership Content

Fails
There's really only two types of content on the internet.
Commercials and Shows.
Commercials...
​
interrupt the content you want to consume


are skipped, muted, ignored, and bypassed


steal time from people


build resentful viewers
Shows...
​
are the content you intentionally consume


are searched for, watched, saved, and shared with others


provide genuine value to people


build captive audiences
So why are so many businesses still marketing their expertise like a commercial and not a show?
​
(No wonder it's so difficult for them to cut through the noise online.)
​
Don't fall into that trap.
Start marketing in a way you can feel good about.