Win Business
With

Remarkable




Thought Leadership Content And Marketing
Rveal Media helps businesses and organizations of various industries produce top-shelf Thought Leadership content that shows their expertise, builds brand loyalty, generates leads, and increases sales.
That's the percentage of B2B decision-makers that say they'd be willing to pay a premium to work with an organization that produces quality Thought Leadership versus those that do not.
However, only 15% of decision-makers say that most of the Thought Leadership they consume is "very good" or "excellent".
That's where we can help.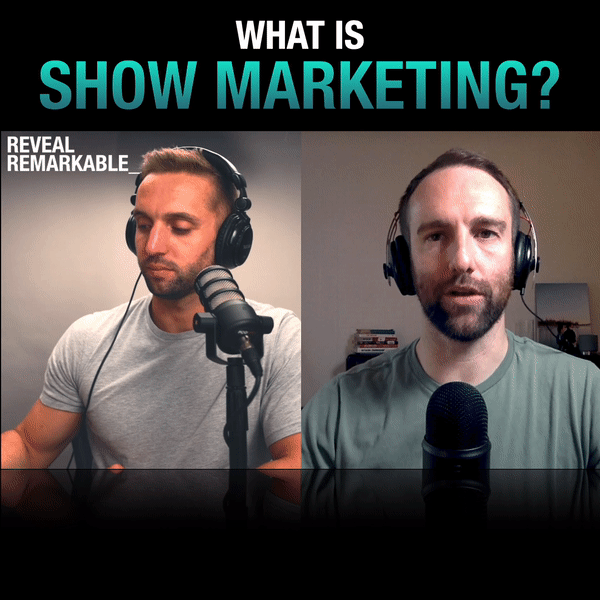 Feel Good About Your Marketing -

Finally.
Our Thought Leadership marketing show model helps business owners, thought leaders and experts streamline their message in a way that's efficient, effective and excellent.
​
Not only that, but it just feels genuine, too.
​
The way marketing should be.
We Don't Overthink Thought Leadership
Record Your Episodes
Hop into your virtual recording studio to record every episode.
Review Your Content
​
After we edit your content, leave detailed comments for any revisions you'd like to make before it's published.
Reveal Y

our Value
Share your content online, build your audience and watch your business grow.
Custom show branding

Show treatment PDF

Show portal

Show setup
Full episode - video per episode

Full episode - audio per episode

YouTube thumbnail per episode

Virtual producer per episode

Production Coaching (60min call/mo)
EVERYTHING IN
PREVIOUS TIER PLUS
...
+ BASIC COPYWRITING
+ MICRO CONTENT
+ CONTENT MANAGEMENT
4x micro videos (<60sec) per episode

5x social media graphics per episode

1x blog post (w/ show notes) per episode

1x email newsletter per episode

Copywriting for social captions per episode

Content management (podcast, YouTube, socials, emails, blog)
EVERYTHING IN
PREVIOUS TIERS PLUS
...
+ ENTERPRISE-LEVEL MARKETING
+ STRATEGY CONSULTATION
1x blog per episode (up to 1,500 words)

1x lead magnet PDF per month (up to 10 page)

Social media ad campaigns (1x/qtr)

PPC ad management

Podcast tour concierge (we schedule your guests and book you on other relevant podcasts)

Social media and YouTube hashtag strategy

Quarterly insights review

Thought Leadership consulting (2x hr/mo)
"Rveal has grown to be a critical part of our team acting as our outsourced, fractional CMO. Their expertise and aligned values provide us the confidence and trust we need. They allow us to focus on growing our business, while they guide us on presenting it to the world."
Why most digital marketing strategies

fail
There's really only two types of content on the internet.
Commercials and Shows.
interrupt the content you want to consume


are skipped, muted, ignored, and bypassed


steal time from people


build resentful viewers
are the content you intentionally consume


are searched for, watched, saved, and shared with others


provide genuine value to people


build captive audiences
So why are so many businesses still marketing like a commercial and not a show?
​
(No wonder it's so difficult for them to cut through the noise online.)
​
Don't fall into that trap.
Start marketing in a way you can feel good about.